Skip to Main Content
It looks like you're using Internet Explorer 11 or older. This website works best with modern browsers such as the latest versions of Chrome, Firefox, Safari, and Edge. If you continue with this browser, you may see unexpected results.
Training programme - postgraduates & researchers
Research Data Management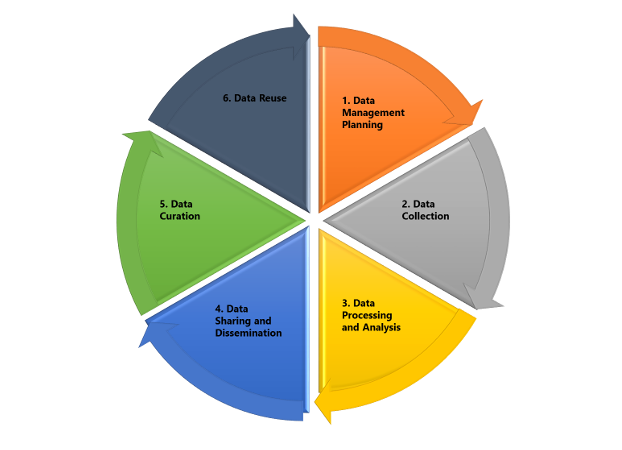 Research Data Management can be defined as a process which consists of two components:
Planning for the manner in which research data will be managed during and after the research process; and
Controlling the collection, processing, analysis, sharing, dissemination, curation and reuse of research data.
Read more on our Research Data Management Page.
Your research footprint: ORCID


Create your individual ORCID ID: ORCID Author ID implementation at Stellenbosch University
1) The NRF requires that all researchers and students applying for funding and/or
rating at the NRF have an ORCID identifier.
Read the
NRF Statement
2) Improve your research footprint:
Upload your SCOPUS publications to your ORCID AuthorID

3) Record your ORCID when you submit a paper.
CrossRef can automatically update your ORCID record on publication if the publisher is
connected to CrossRef. The Crossref auto-update process is granted from a message within your ORCID inbox.
For more information: visit ORCID
Research Guides
Bibliometrics and citation analysis

This libguide provides information on accredited journals, article and journal impact factors, the H-index and other author indices as well as definitions and support available

Enhancing Postgraduate Environments (EPE)

Useful resources for supervisors and postgraduates.

Library research support

Quick guide to introduce postgraduates and researchers at Stellenbosch University to available library services, resources, training opportunities and facilities.

ORCID and other researcher identifiers

This guide gives an overview of unique author identifiers. It also gives information about the implementation of ORCID at Stellenbosch University.

The research process

This Libguide provides a systematic guide to the different phases and activities of a master's or doctoral research project and introduces the researcher and research student to relevant Library sources, tools and services offered along the way.

Where to publish your research article

Information and resources to help you make important decisions about where to publish your research